Water Damage Restoration Company Rockville MD, Water Damage Repair & Cleanup
we give our best and prepare for the worst
24/7 Water &
Flood Damage Professionals

in Rockville MD

Our team of water and flood damage professionals in Rockville MD is available 24/7 to assist you. Whether you're dealing with a large loss from storm damage or a smaller issue caused by broken or leaky pipes, it's crucial to seek proper water damage services from a home water damage restoration company that knows what they're doing. Our Rockville professionals are qualified to handle any water removal job required.

We're dedicated to providing emergency water removal and flood damage cleanup services. Our mission is to thoroughly inspect your home from top to bottom and eliminate all excess water and moisture to prevent further damage. If you experience a water damage emergency, contact us immediately, and we'll assess the situation and create a plan of action. As a water damage restoration company near you, we're committed to helping you with your immediate needs no matter the size of the damage. Call us now for assistance with water damage restoration in your area.
Specializing

in Water Damage Services

At Restoration Doctor, we prioritize you and your needs. We understand that Rockville water damage is often out of your control and requires emergency care. Our goal is to help you live comfortably and safely in your home. Our water damage restoration specialists are extensively trained to provide the best solutions for emergencies. We specialize in water extraction, restoration, and other removal services, utilizing all available water mitigation services to restore your residential or commercial property. We strive to provide our best work and prepare for the worst. Water and flood damage can be a headache but we're here to help heal it.
We Work Seamlessly with All
Insurance

Companies

Although homeowner and business insurance policies differ, most include provisions and coverage for property and content damage caused by excessive water. Restoration Doctor aims to alleviate the stress on you after a disaster. We collaborate with your insurance provider and handle the necessary documentation and paperwork to file your claim, saving you the hassle.
What
Causes

Water Damage in Rockville MD?

Water damage to your Rockville home can be caused by various factors, including bathtub, toilet, or sink overflow, broken or leaky pipes, washing machines, water heaters, refrigerators, dishwashers, sump pump failure, air conditioner leaks, hardwood floor damage, or external flooding. Ignoring or improperly addressing water damage can lead to significant health risks.

If you suspect water damage in your home, the first step is to shut off all water sources to prevent further flooding. It's also important to turn off the electrical breaker in the affected area for safety reasons. Next, contact Restoration Doctor to create a plan for cleanup and restoration. We're equipped to handle any water damage repair needs you may have.

When You have water or flood damage, call the pros at Restoration Doctor for water removal and cleanup right away!

We provide services throughout Rockville MD,  including 20850.
DAY or NIGHT!
A+ BBB rating
Always talk to a real person, 24/7
On our way in 45 minutes or less
We work seamlessly with all insurance companies
Financing options available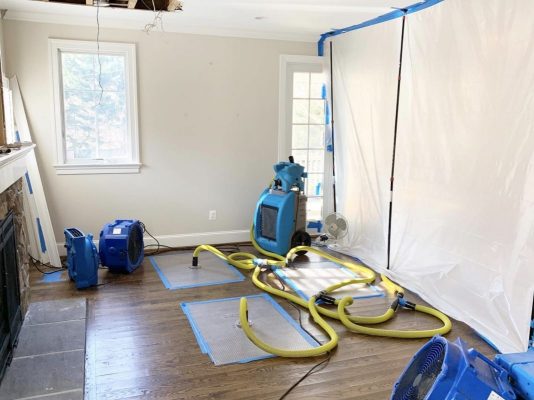 ---
Save $500
Save $500 off your
deductible
Valid only for service indicated on coupon. Offer cannot be combined with any other discount or promotion.
Save $250
Save $250 off
uninsured claims
Valid only for service indicated on coupon. Offer cannot be combined with any other discount or promotion.
Schedule
Service
contact us
today
Contact Restoration Doctor today to setup a service for your residential or commercial property.
schedule now
 * Coupon must be presented during initial consultation * 
Testimonials
From Our
Customers
Mrs Davis
We woke up to every homeowner's worst nightmare! Our home turned into a pool overnight! Steve and Dave were AMAZING! When they arrived, I was running around like a crazy lady! They explained everything. They put me at ease. I couldn't be more grateful. They seem so knowledgeable. I felt confident my home was left in good hands. It was a good feeling. I hope this kind of thing never happens again. But if it does, I sure hope it's these two coming to my rescue! Thank you.
Nancy M
We had damage to one of our properties. I contacted Restoration Doctor and they arrived in less than two hours to start the clean up. They provided an estimate right away and completed the job faster than we expected. Each person I spoke with at Restoration Doctor was professional and the work they did was great. I highly recommend Restoration Doctor.
Clifton F
I had a small bathroom leak and from their Mitigation, Steve and Dave to the end were all professional, reliable, courteous and considerate. They did a great job on a small job and treated it like any size job. It was great to have Steve be in charge and handle all the details and not have to hire many contractors ourselves. I highly recommend this company!
Donald C
I can't say enough good things about this company. In the worst of times, every individual I dealt with was sympathetic and gracious, as well as honest about the challenges ahead. They have the science and training to back up their work, and avoid use of harsh chemicals while completely resolving any contamination concerns. You don't want to have to call them, but if the situation warrants they are the very best.
Wernher B.
Dave is the best! He came to DC to work on my home and gave me some really good advice from a water leak that I had. He came all the way to DC to give me an assessment and did an impeccable job in remediating any water damage. His rates were competitive and he was completely honest. I love working with people of integrity that care and he fits that bill perfectly. Equally importantly, he came himself to do the work and did a great job, taking his time to make sure things were done right. Dave is patient with the customer, communicates everything, and is just a pleasure to do business with. In this age of companies that try to just get a dollar from you, it is refreshing to have someone I can recommend that is worthy of your business. Do not hesitate to call the Restoration Doctor!
Paul W.
Restoration Doctor was very responsive and acted quickly to assist me with an overflowing toilet that ran for 30 minutes causing extensive damage. They were at my house within hours assessing the damage and setting up their equipment. They also worked with my insurance company. My wife also commented on how nice and courteous the workers were that came to our house. I would not hesitate to recommend this company to anyone. They were fantastic!
Hailey L.
Frank explained EVERYTHING in great detail, and even came back to my house to help me with the insurance adjuster. My basement is now smelling and looking better then when we moved in! I would definitely recommend them to anyone in need, and will use them in the future if there is ever a need again.
Phillip M.
They are super professional and friendly and their work is top notch! I cannot say enough good things about them! I would highly recommend this company to anyone for any restorations services they may have. Thank you this company for making this whole process so seamless during such a stressful time...you and your whole team are the best!
Dani C.
Sewage backup and faulty toilet flange caused quite a problem and it happened to be the week of Christmas. Marcus and Frank and the hard working men that work beside them were amazing!!! They were out that day and took care of everything in a matter of hours. Marcus also went way over and beyond for me with the plumbers and my Insurance company. He also called to check on me and my elderly father and also stopped by to make sure we were well taken care of. These men and this company care about you and your family and you don't find that in this day and age. I can't say enough good things about them.Thank you so very much guys for everything. I would never recommend anyone else.
Marcus G.
Excellent Service. quickly dried our home with minimal inconvenience to me and my family. All the office staff and field techs we dealt with were professional and knowledgeable. Helped us file our insurance claim and documented everything our adjuster needed. A+
Handling Your
Sewage Damage

Backups
As a homeowner in Rockville MD, dealing with a sewage backup is a major headache. Cleaning up sewage damage on your own is not recommended as it can cause health risks, property damage, and may worsen the problem. When seeking professional help with sewage cleanup and removal, it's best to go straight to the experts.
Sewage backups occur when water is prevented from flowing properly through your sewer line, resulting in waste accumulation that no homeowner wants to handle. If small sewage backups are not addressed correctly, they can lead to larger, more expensive problems.
If you or someone you know is experiencing sewage damage and needs professional care, contact us at 1-888-29-FLOOD. Our team will handle all aspects of sewage removal to restore your home to its clean condition.
we give our best and prepare for the worst
Basement

Water Damage Repair & Restoration

Ignoring or improperly addressing basement water damage can lead to serious issues. A flooded basement can be caused by various factors, such as a broken water heater or washing machine, burst or frozen pipes, ceiling leaks, rainwater, floods, ice melting, or storms.

If you notice water in your basement, it's crucial to take a few steps. First, turn off the power to avoid electrical hazards. Next, determine the source of the flooding and shut off the water to prevent further damage. Move all items from the affected area to a dry space to prevent additional damage. Finally, contact us to begin the basement water damage repair and restoration process.

Call now! 1-888-29-FLOOD
Common Water Situations
Odor control
Deodorization
Moisture control
Pump out
Water extraction
Flooded basement
Sewage backups
Overflowing appliances
Call In The Experts
The
Most Knowledgeable

Professionals in the Industry

Restoration Doctor has extensive experience in cleaning up water damage and reconstructing flooded or water-damaged homes and businesses. Our water damage company continually adapts new water restoration technology and techniques to provide you with the best and fastest restoration possible. We utilize the best tools, materials, and knowledgeable professionals in the industry to deliver high quality products and services at affordable prices every time.

We provide flood and water cleanup services in Rockville MD and the surrounding area. Contact us today to learn more about our water damage restoration services.

Call Now! 1-888-29-flood
contact us
For Immediate Water & Flood Damage Services
"*" indicates required fields